Josh Stanton, a returned citizen of Genesee County, recounts his story. This is a story that goes to show that addiction does not discriminate. 
Josh grew up in a loving home where he felt loved unconditionally. With two younger brothers, he played many sports and was cared for by his mother who stayed home for most of his childhood. She then went back to school to become a nurse. His father worked at General Motors to provide for their family. Josh has fond memories of family vacations and get-togethers with extended family for holidays. He says, "I never needed anything. I was treated well and loved unconditionally. However, church wasn't a part of my routine." 
As an 18-year-old, Josh started experimenting with drugs. It was during this time that he first tried methamphetamine and only used it a few times until he moved to Texas in 2007. At this time, Josh started using meth more regularly as he found that he felt superhuman. He was able to work harder and longer hours, which gave him the ability to make more money. He felt young and like he didn't need sleep. Josh reflects, "This only has a short life span, however. Life began to fall apart all around me." 
Years later, Josh ended up back in Michigan. He had a decade where he didn't experience any legal trouble. He had three children and a stable life. It was during the COVID lockdown that he relapsed and started using meth again. At this time he lost custody of his children and found himself in the Genesee County Jail for 10 months. 
"I met Gerry when I applied for GRO Pod. Gerry had me moved off the Trustee floor to attend GRO Pod. The friendship began instantly and is still growing. The mentoring from Gerry and Ken provided so much stability. There is a real bond learning from them. The daily interaction provided time to learn a lot about walking in the will of Christ." 
Gerry and Ken work with the Genesee county chaplaincy through RTF and they help facilitate the GRO Pod, which is a voluntary program for inmates that provides 150 hours of classes over several months. GRO stands for God Restoring Offenders. 
It was in jail that Josh was determined to "stand on the rock," and found that a life of recovery and sobriety was possible. Josh was released in January of 2022. His children were stuck in the foster care system, and when he got out, the first thing he said to God was, "Take me on a journey to get them back."  
Through a program called ReConnections Josh was provided with a job through Catholic Charities as the Director of Facilities. He has regained custody of his children! He continues to be an active participant in the recovery community, attends church as much as possible, and volunteers his time where he can. Josh's journey is nothing short of miraculous. He has put in the work and the Holy Spirit continues to transform his life, changing the trajectory of his children's lives.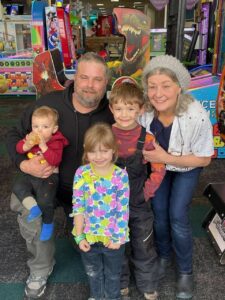 As Josh looks toward the future, these are his biggest dreams: "I want to raise my children in the church and teach them all I can while I let Christ do the rest of the work. I have hopes to raise them up  to have servants' hearts. I want to see them have a great education and do all they ever want to do." 
To watch some more of Josh's story, you can view it below. 
It is because of people who help share the story of this ministry that lives like Josh's are transformed. Thank you!